Martin Scorsese's Killers of the Flower Moon serves as a testament to his enduring brilliance in the directorial realm, even at this late stage in his career. The film masterfully weaves a gripping narrative around a real-life conspiracy. Adapted from David Grann's non-fiction work, the film unravels the chilling true story of the Osage Indian murders in the 1920s. At its heart is Molly Burkhart, portrayed in a star-making performance by Lily Gladstone, an Osage woman whose family unwittingly becomes a target of a sinister plot when the Osage Nation's land yields an unexpected bounty of oil, bestowing immense wealth upon them. Ernest Burkhart, portrayed by Leonardo DiCaprio, Molly's husband, a white man intertwined in a web of avarice and homicide as the Osage people begin dying under suspicious circumstances. Molly and her family, accompanied by Oklahoma businessman William Hale, played by Robert De Niro, labor relentlessly to unveil the truths behind these murders.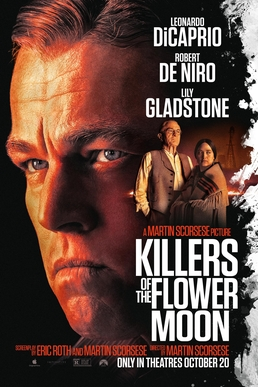 In its exploration of themes surrounding justice, exploitation, and the murky annals of the Osage Nation's history, Killers of the Flower Moon emerges as a compelling historical drama. The film unfolds over its extensive three-and-a-half hours, and while the pace might be considered slow by some, every moment feels meticulously crafted. The patient storytelling style generously allows for character evolution and historical context, transforming the film into a potent exploration of a dark chapter in American history.
However, the film finds fault in Thelma Schoonmaker's painstaking editing approach, which doesn't possess the same flamboyance as her work in "The Irishman," leaving some room for refinement in terms of a more judicious edit, as there are instances where certain scenes tend to linger excessively. On the other hand, Robbie Robertson's blues-infused, rock-tinged score imparts "Killers" with a distinctive personality, significantly enhancing the film's overall ambiance. As is true with the ensemble who delivers stellar performances, though Brendan Fraser's inherent tendency towards hamminess seems to undercut the script's intentions. The rest of the cast, notably Lily Gladstone, dazzles with a subtlety that amplifies the film's intricacies.
The film stands as a testament to Martin Scorses' enduring mastery, a creator who, even at the age of 80, remains a pioneer, consistently breathing fresh life into the medium.