Loading ...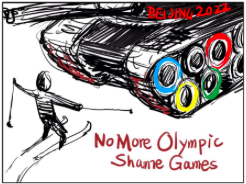 Noah Civitarese, Staff Writer
April 28, 2021
Due to China's recent controversy concerning the genocide and sterilization of Uyghur and Kazakh people by state authorities and the Hong Kong situation. Many countries are discussing...
Josephine Gettman, Staff Writer
January 24, 2021
To start off the new year, the NCAA formally announced that the 2021 Men's Basketball March Madness tournament will be held entirely in Indianapolis, Indiana. The decision came...