On Friday, September 15th, a large group of students from La Jolla High School participated in a walkout to demand governments to take action in the climate change crisis. Emma Weibel, the president of the LJHS Environmental Action Club, led this group during 6th period on the corner of Nautilus Street to help bring awareness to this pressing issue.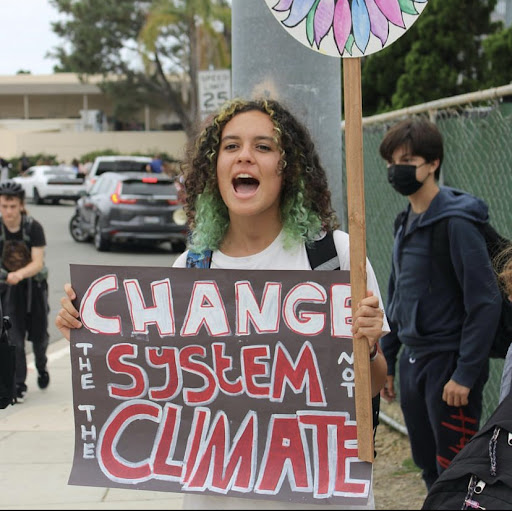 As Weibel explained, "the protest was part of the global climate strikes that were happening that day. We are calling on Biden to declare a climate emergency, take global action, and just in general for the world to bring more attention to climate change." The strike got media attention from Fox 5 News, and was part of a larger call to action ranging from Kenya to Zimbabwe to across the United States—with over 75,000 people participating in New York.
Anabel Weinstein, a sophomore who participated in the protest, said, "the climate strike had a huge impact on not only the students participating, but the community around us. We showed that without immediate climate action, we students will not have a future. That is why striking matters so much." The efforts of La Jolla High students to help the community recognize the importance of this issue were undoubtedly felt, and raised questions regarding students' roles and responsibilities in helping to protect our planet. 
When asked what change she believed this would bring if Biden were to listen to their strikes, Weibel said, "our whole world would be saved; as one of the biggest countries with some of the biggest industrial power, we could lead the world in cutting emissions."