On September 11, 2001, arguably the most tragic event in American history took place. On this day, 2,977 people lost their lives, including one former LJHS student, Brent Woodall. On the 22nd anniversary of 9/11, Craig Woodall honored his brother through a presentation discussing his personal connection to this event, and how his refusal to let Brent's legacy be forgotten helped him overcome his grief.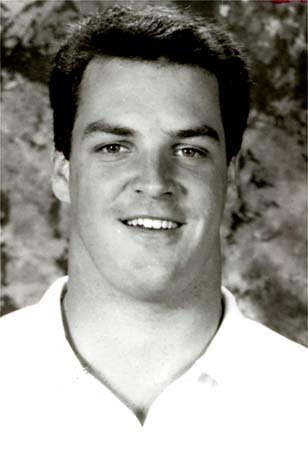 Brent Woodall, a 1988 alumnus, was a three-sport letterman athlete who continued his sports career at UC Berkeley. He worked as an equities trader on the 86th floor of the World Trade Center's South Tower when it was attacked. Craig Woodall discussed how this day unfolded in front of his eyes in great detail, highlighting several eye-opening statistics and the impact it had on our nation as a whole. Junior Sophia Baranic expressed, "the way Craig Woodall spoke about the situation evoked so much emotion and empathy from the audience. He kept his composure so well while talking about such a deeply personal topic, which was extremely impressive." Junior James Fricovsky also expressed his respect for Craig Woodall's way with words, describing how they "really put 9/11 into perspective," and helped him "better understand the impact it had on the families and friends of those lost."
Today, a memorial award and scholarship in Brent's honor at La Jolla High School recognizes "student athlete[s] who best combine the academic excellence, athletic achievement, leadership and outstanding citizenship exemplified by Brent Woodall." Family and friends established the Brent Woodall Memorial Scholarship Fund for football players at Cal, and Woodall's widow, Tracy Pierce Woodall, founded the Brent Woodall Foundation for Exceptional Children in 2003 to honor her late husband.
While it has been 22 years since this day, the effects of this unique tragedy in human history continue to be felt. Keeping the memory of those lost alive brings an entire nation together to honor the sacrifices made then and the sacrifices that are being made now. Undoubtedly, Craig Woodall's powerful message will continue to resonate with all LJHS students, and the enduring legacy of Brent Woodall will never be forgotten.