Girls Varsity Basketball Finishes Season with Strong League Play
Our Vikings' girls varsity basketball season had come to an end after an 11-14 season
where they went 8-4 in league with a third place finish. After a rough start to the season going 3-
10 in tournaments and non-league games, the girls put together a strong league stretch, winning
eight of twelve league contests. Through December, they had an underwhelming 2-9 record, but
once the New Year hit, they won two games in the first week of January. They defeated
Crawford 47-45 on January 3 in their league-opener, and beat Maranatha Christian 50-40 the
next day.
After blowing out Hoover by 20 on January 15, t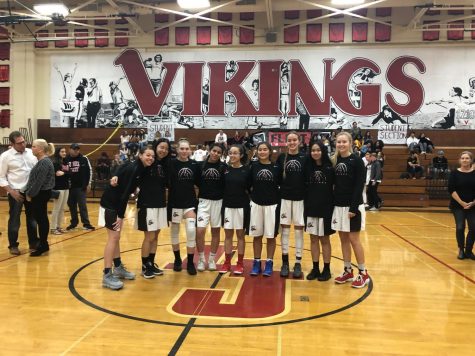 hey went on the road two days later and
beat longtime rival Mission Bay 52-43. In a rematch against Crawford on January 22, La Jolla
dominated in a very strong defensive effort, winning 39-7. On a packed Friday night game
against Mission Bay on February 8, the "Basketball Bonanza", we honored our nine seniors on
Senior Night. Senior Brooke Strowbridge finished with a game-high 25 points with 19 in the first
half alone. Unfortunately, the season ended on February 12 in a 54-45 loss to Point Loma in the
first round of the DIII CIF playoffs.
(Photo via Paula Conway)