Warning: The following article contains sensitive content on violence and terrorism. Please read with a trusted adult or caution.
Renewed violence has erupted in the Middle East, with Israel formally declaring war on Hamas after the Palestinian terrorist organization launched thousands of rockets into Israel, massacred over 1,800 mostly Israeli citizens, and kidnapped as many as 150 in southern Israel in the early morning hours of October 7th. In a coordinated, well-planned attack, over 1,000 Hamas militants stormed through multiple points of the security barrier surrounding the small, Hamas-controlled Palestinian enclave of Gaza that morning using bulldozers and other machinery. They then drove miles into Israeli towns in the area, indiscriminately shooting down everyone in their path with machine guns, grenades, and other weapons – sparing neither women, children, nor the elderly – and beating and abducting upwards of 150 people at least 22 of whom are U.S. citizens. Recently, the situation has become ever more treacherous as Hamas has threatened to broadcast live the execution of a hostage every time an unannounced, retaliatory Israeli missile strikes a building in Gaza.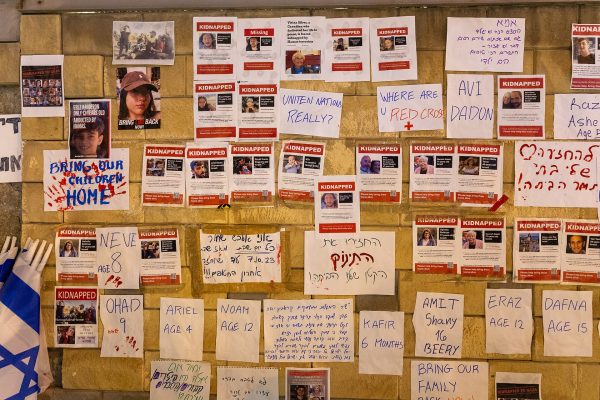 Israel has fiercely retaliated in response to Hamas's blood-soaked raid by dropping tons of bombs over cities in the Gaza Strip, leveling entire neighborhoods, as well as laying siege upon the enclave by cutting off all power, water, medicine, food, and other supplies to its population of over 3 million Palestinians. Israeli authorities have threatened to keep the siege in place until all the hostages have been released. If not lifted soon, the siege may lead to what has been called a "humanitarian crisis" by the United Nations Office for Coordination of Humanitarian Affairs, as Gazans run out of clean water, food, and medicine. The Israeli military is now planning a ground offensive in Gaza with the goal of ending Hamas once and for all in what is one of the most densely populated areas on the planet. So far, it is estimated that at least 2,800 Gazans have been killed in the Israeli bombings, much of their civilian infrastructure has been destroyed, and over one million have been displaced from their homes. Hamas, a political and militant movement, is deeply embedded in the social fabric of Gaza as the de facto authority. (Council on Foreign Relations) Entirely eradicating the organization without killing swaths of the Gazan population in the process, 50% of whom are children, will be a tall order. But as made clear by Israeli Prime Minister Benjamin Netanyahu's statement that retaliation attacks have "only just begun," the Middle East has been thrust into a turbulent and uncertain new era of violence, suffering, and destruction.  
With the continuing spread of opinions and misinformation via the internet, the Hi-Tide wants to provide its readers with a factual and concise report on this ongoing and complex conflict. For more information, the Hi-Tide recommends reliable and trustworthy sources, such as the New York Times, NPR, the Washington Post, and CNN.