Mia Jessen (Libero/DS) and Bradleigh Ryan (Pin Hitter) have both been playing volleyball long before their freshman years of high school. Now seniors, they've been bringing their all to their last volleyball season at La Jolla High before they go off to college. Keep reading for an exclusive interview with the two captains of our girls varsity volleyball team!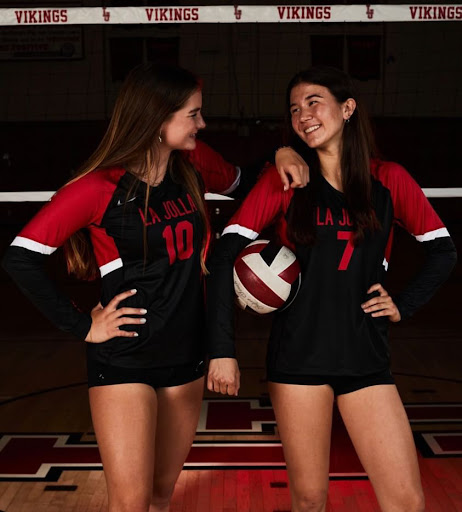 Q. How long have you been playing volleyball?
MJ: 6 years. 
BR: 8 years.
Q. What made you start playing volleyball?
MJ: When I moved to San Diego my mom wanted me to do a team sport, so I chose volleyball. 
BR: I played because my friend's dad was the coach, so all of my friends played volleyball together in 5th grade.
Q. What is your favorite part about volleyball?
MJ: I like being on a team with my friends and getting to compete. 
BR: Probably playing home games for the high school season, they're really fun for me. 
Q. How has your senior season been so far?
MJ: It's been good; we have a lot of seniors so it's fun to have our last season together. 
BR: This season our team has an even winning and losing record [at time of interview]. Our team dynamic is really fun; we're all really close.
Q. What would you consider your biggest sports achievement?
MJ: Committing to college to play volleyball. 
BR: As a team, we won CIF Division 2 twice for beach volleyball. Also, last year, I got MVP for my team which was really great. 
Q. Do you plan on playing volleyball in college?
MJ: I'm playing volleyball at Hamilton College.
BR: No, I'm not.
Q. Do you have any team shoutouts? 
MJ: Shoutout to sophomore Emma Garrett!
BR: Shoutout to senior Anaïs Reneaum!
Nominate and vote for the next Viking of the Month on our Instagram, @ thehitide !