The Boy And The Heron or How Do You Live? (Japanese: 君たちはどう生きるか), a new Studio Ghibli fantasy movie by Hayao Miyazaki hit Japanese theaters on July 14th and is set for US release on December 8th. The film received critical acclaim, and grossing $13.2 million (1.83 billion yen) in its opening weekend, became the biggest opening in Studio Ghibli's history–surpassing that of Howl's Moving Castle debut in 2004. The Boy And The Heron has been rumored to be Miyazaki's final film before retirement and is nearly half a decade in the making.
The title references the 1934 story The Boy and the Haron by Genzaburō Yoshino, but the movie has its own unique story and contains autobiographical features referencing Miyazaki's own life. It is set in Japan during World War II and centers around a young boy, Mahito, who struggles to settle in a new town after his mother's death. Its official logline reads: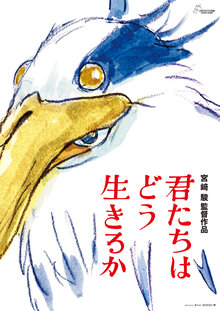 "A young boy named Mahito
yearning for his mother
ventures into a world shared by the living and the dead.
There, death comes to an end,
and life finds a new beginning.

A semi-autobiographical fantasy
about life, death, and creation,
 in tribute to friendship,
from the mind of Hayao Miyazaki."
Junior Zac Schmidt expressed his excitement for this movie release, saying, "animation as a medium has gone through a sort of renaissance in the last few years, but Studio Ghibli has been ahead of the industry for years. Ghibli's produced incredibly animated films that greatly impacted my childhood, and I can't wait to see what Miyazaki has created for The Boy and the Heron."