Black Rock, Nevada – The annual Burning Man festival, known for its vibrant art installations and radical self-expression, faced an unexpected challenge in 2023 as torrential rains led to widespread flooding, leaving attendees scrambling to adapt and escape from the muddy morass.
From Sept. 2. – Sept. 3, heavy rainfall inundated the Black Rock Desert, transforming the festival's iconic playa dry lake bed into an actual, albeit temporary, lake. The deluge disrupted planned activities, prompting event organizers to post on the website: "Please do NOT drive at this time…But we are seeing most other types of vehicles that try to depart getting stuck in the wet mud which hampers everyone's Exodus." Many attendees found themselves navigating through knee-deep water, struggling to protect their art installations and campsites from the flooding.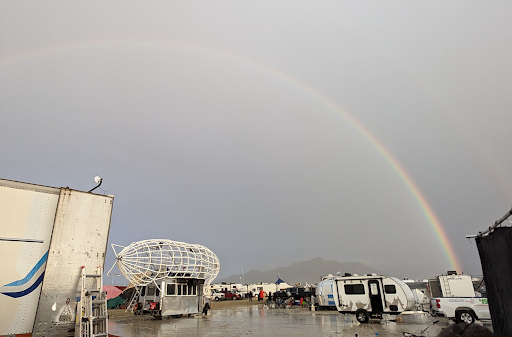 Organizers mobilized to ensure the safety of participants, coordinating rescue efforts and shelter in designated areas. Despite one confirmed death unrelated to the weather, as of Sunday, Aug. 3, there were no reported injuries.
The flooding also caused logistical challenges, forcing the postponement or cancellation of events. Art installations vulnerable to water damage were relocated or dismantled.
Despite these disruptions, many at Burning Man embraced the unusual circumstances, turning the waterlogged desert into an impromptu aquatic bacchanal: 'What transpired was pure magic. We lost track of time. At least 16hrs of it apparently!" said Instagram user @robotheartfoundation. Other attendees, however, were less than thrilled. According to CNN.com, Amar Singh Duggal left the playa after hiking two miles through the mud, "Each step felt like we were walking with two big cinder blocks on our feet."
As the weather cleared and the waters receded, organizers and participants alike expressed gratitude for the supportive community that emerged. Many felt the 2023 Burning Man festival will be remembered as a testament to the spirit of radical self-reliance that defines the annual gathering.