Girls Soccer Wins League
Season comes to an end after CIF semifinals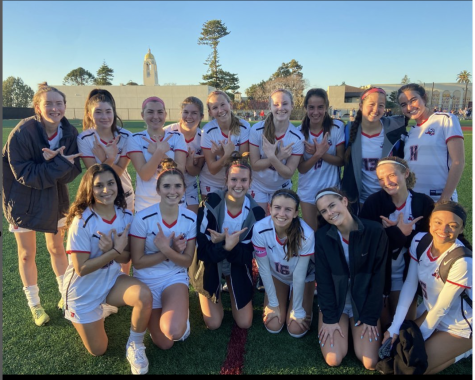 The girls varsity soccer team's season has just come to an end after a battle against Monte Vista High School in the semifinals. The team fought hard but ended up losing in penalty shootouts. However, their accomplishments are not overlooked as they won all their league games and made it to the semifinals in CIF. Senior Maya Hanley said, "I thought our season went really well. We won the league and went to the semi-finals for CIF where we lost in PKs which is unfortunate. However, we only had one loss the entire season and only let in four goals. We were defensively really strong and I am proud of everybody." 
Maya also spoke on the ending of her high school soccer career, "It is definitely bittersweet because there are a lot of great memories and great people I am going to miss next year but the program definitely grew a lot this year and I am excited to see all the success that are going to come in the future." 
"
We were defensively really strong and I am proud of everybody."
— Maya Hanley, senior
Freshman Caroline Bruner adds, "I would say that this soccer season was the best season I could have had my freshman year. Everyone of my teammates were supportive and kind, and we all played our hardest to earn our amazing record this season." She also mentioned, "Being a freshman on varsity felt a bit intimidating but all the upperclassmen were really welcoming and made me feel part of the team."
Overall, even though the girls varsity soccer season has come to an end, they still had a remarkable season making it all the way to the semifinals.
About the Contributor
Meredith Venneri, Staff Writer
Meredith Venneri is a freshman and a new member of the Hi-Tide staff. She wanted to be a part of the Hi-Tide staff because she wanted to future her writing...