The Rising Prices of Netflix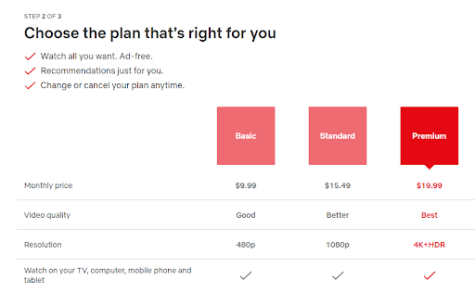 Netflix is one of the most popular and successful streaming services in the world, with the now 24-year-old platform offering and releasing thousands of shows, movies, documentaries, and more. However, recently the app has raised subscription fees for both old and new subscribers. These new fees may result in Netflix either losing streaming subscriptions, or in a successful growth in profit.
According to Inc., "On Friday, Netflix announced it has raised prices on all of its subscription plans, with the highest-quality plan now costing users $19.99 per month. The basic plan, which only allows for standard definition video, is now $9.99. Netflix says its most popular plan, which allows for 1080p HD video, is now $15.49" The new fees have led to an impediment in subscription growth for Netflix. However, with Netflix being the most subscribed to streaming service in the world, this hasn't drastically harmed the business at all. Especially when the site is compared to other popular streaming services, such as Apple TV. When junior Stephanie Lomakin was asked if she preferred Netflix or Apple TV more after Netflix had increased their fees she replied, "I still use Netflix to watch tv shows and don't think too many people will want to switch to Apple TV since they aren't as popular." 
Despite Netflix ruling the streaming world, Apple has created a monopoly in modern technology, from making phones and computers, to manufacturing and operating global tech empires. Apple TV is one of their numerous services they've created, and offers various genres of entertainment similar to Netflix. As reported by Inc., "Apple is also spending billions to build its own content library, despite only charging $4.99 per month. That's half of Netflix's cheapest plan" ("There's No One Left to Sign Up for Netflix, So It's Raising Its Prices Again Instead." Inc., Jason Aten, 15 January 2022. With Apple currently creating new features to its service like the content library, it may lead consumers to buy Apple TV plans in 2022. Also, the prices are clearly better than Netflix. 
So what are current Netflix subscribers gaining from paying higher fees than competing streaming services? According to The Verge, "Growth opportunities have stalled, and the company's spending on content continues to grow. To keep up, Netflix has to either increase the number of subscribers paying for its service or ask its existing customers for more money. And right now, Netflix knows it can" ("Why Netflix keeps cranking up it's prices." The Verge, Catie Keck, 20 January 2022. It seems like Netflix will continue to increase the prices of fees as long as they still need to grow it's number of subscription plans. When junior Helena Schectman was asked how she felt about Netflix's higher subscription fees she replied, "Netflix cancels a lot of my favorite shows and movies like That 70s Show. I miss that show and wish Netflix had more options instead of canceling good shows, I would rather use something else." Of course there are loopholes to the entirely new fees because bundle/ family plans include multiple devices to stream at once. You would be paying more money, but getting more streaming out of Netflix. 
Despite Netflix increasing their subscription fees, hopefully in the near future, it will be releasing new or original content to keep subscribers on the site. In the meantime, Netflix users have the decision to either stick with the world-famous streaming service or find another site to binge their favorite shows, movies, documentaries, and more.