Viking Students Look Forward to Homecoming Football Game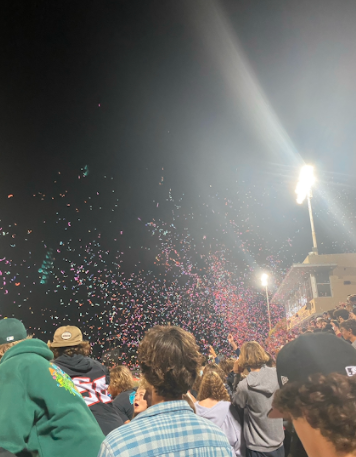 As La Jolla High School works towards having a great year back on campus, along with a homecoming dance, the homecoming football game was played on  Friday, September 24th. Many students were looking forward to the big game against Christian, including senior Carly Wolf, "I am looking forward to seeing our school spirit and supporting our Vikings." With the theme of the game being red and black, the signature colors of the La Jolla Vikings were greatly executed showing great pride and school spirit. 
As stakes were high, the football team was prepared to give it their all and gain another win for our promising school. They worked to achieve a win for the graduating alumni, parents, staff, and students that attended the game. This year the football team took in a few freshmen to play for varsity, including Jett Thomas. This is Jett's first year playing football, nevertheless he is number 75, a starting lineman on the team. As one may assume how intimidating it must be as a freshman starting on varsity, Jett faces these challenges easily."It's cool, the viking family is very welcoming," Jett stated about his new community of Vikings. 
The final score being La Jolla 35 and Christian 7 made the Homecoming football game a night to remember.