2021 Men's NCAA Volleyball Championships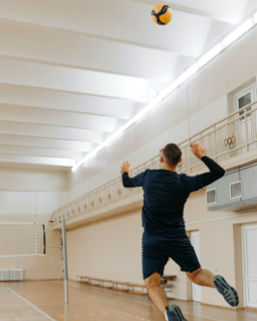 Harrison Kaseff, Student Focus Editor
June 2, 2021
There was lots of anticipation and build up for last Saturday's Championship match between the Hawaii Rainbow Warriors and the BYU Cougars. Many anticipated a long match spanning multiple hours. However, that is not what we got as Hawaii came out firing on all cylinders.
After Hawaii was beaten by UCSD in the semifinals of the Big West Tournament, many thought Hawaii might fall out of their number one spot for the national tournament. That is not the case as Hawaii (15-1) was ranked as the number one team heading into the Final Four. BYU, number two in the nation, won the MPSF Tournament to claim their spot in the national tournament. Both teams started in the semifinals because of their impressive regular season. Hawaii was able to sweep conference rival UCSB and BYU beat Lewis 3-1 in the other semifinal. UCSB has a couple players from San Diego in middle blockers Keenan Sanders (Scripps Ranch High) and Donovan Todorov (University City High). This setup for a BYU-Hawaii National Championship.
BYU and Hawaii are always in the top 10 of men's volleyball so there's a bit of a historic rivalry between the two powerhouses. The two teams played in two matches before the shutdown last year. The first was a huge sweep of Hawaii by BYU (3-0). The second was a reverse sweep thriller by Hawaii (3-2). This led many to expect another 4-5 set match for the Championship.
Hawaii started off the match by hitting a whopping .400 in the first set compared to BYU's .227 hitting percentage. This let Hawaii get out to an early advantage and they never turned back. Hawaii also tallied 10 aces in the match between All-Americans Colton Cowell, Rado Parapunov, and Jakob Thelle. BYU just recorded 2 aces. It was a complete domination by Hawaii. They asserted themselves as the better, more physical team from beginning to end. When asked about the game, sophomore Mathew Turecek said, "It is insane how tall and high these men can jump and hit the ball so hard. I was in disbelief." San Diego native Chaz Galloway notched a .667 hitting percentage along with 6 kills, 5 digs, and a block for the champions. Senior Sean Ross says, "I think it was really great to see the seniors for Hawaii go out with a win. It was also really fun to watch Chaz play, being that I watched him play for the same club and him being from San Diego." Hawaii, who will only return 3 starters next year, will have their work cut out for them next year to repeat as champions. Look for the 6'4" Greek freshman, Spyros Chakas, to have a big year next year as he will most likely replace the 2021 AVCA National Player of the Year, Rado Parapunov.