The English Set to Conquer Europe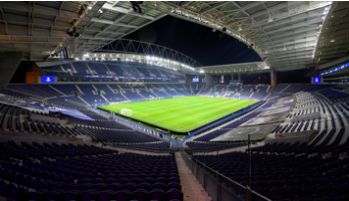 Both English teams, Chelsea and Manchester City progressed through semi-finals to qualify for the final of the UEFA (Union of European Football Associations) Champions League (UCL). The final was to be played on May 29 at the Ataturk Olympic Stadium in Istanbul, Turkey. 
Ataturk has hosted the UCL final once before back in 2005 in front of 76,761 spectators but it will not be the same this year due to the ongoing COVID-19 pandemic.  But on May 13, UEFA and the UK government came to an agreement to move the final to Estadio do Dragao in Porto, Portugal due to the fact that the UK government had put Turkey on their No-Travel list. The new ticket allotment for Estadio do Dragao will allow 25,000 people to fill the stadium with 6,000 tickets each to go strictly to each club's supporters. Another added benefit of the relocation of the final is that any UK supporters that travel to the game do not need to quarantine on their return home from Portugal. 
Chelsea and Manchester City have met three times this season, twice in the English Premier League (EPL) and once in the FA Cup semi finals. Chelsea came out on top in two of the three matchups including, knocking Manchester City out of the FA Cup. Expect a nailbiter of a game, Manchester City has been superb this season, winning their fifth EPL title in nine years and completely bulldozing any European opposition they have faced in the lead up to Champions League final. Chelsea are also flying high since their appointment of their new manager Thomas Tuchel who has completely revitalized Chelsea defense since he took over which has helped Chelsea ascend from ninth to third in the EPL. On the day of the final, expect a chess match between Thomas Tuchel and Manchester City's world class manager Pep Guardiola.
Key players that will have an immense impact on the game. For Manchester City the likes of Kevin De Bruyne and Phil Foden in midfield will be pivotal if they want success transitioning from defense to attack. The only worry for the Belgian Kevin De Bruyne is his match day fitness, at the moment De Bruyne is dealing with a muscular injury, which are common at this point in the season. Chelsea's N'Golo Kante will be given the task to try and neutralize the threat of City's dangerous midfield duo. Avid soccer enthusiast senior Thibaut Losay says, "Tuchel's strategy involves pressing and playing high up on City's midfielders and backline, meaning that Kante will have to be at his best." So keep your eye on short dark blue number 7 on May 29 to see how the game goes. Losay also gave high praise to City's new defensive stud Ruben Dias, "Dias has been unstoppable lately, being able to repel PSG's counter attacks and making key blocks when needed, if he dominates like he dominated against Paris, Chelsea will be in trouble." Senior Evan Suljic is especially excited over the Americans that will be playing in the game, "Either Christian Pulisic for Chelsea or Zack Steffen for City will be the second ever American to win the Champions League." This final will definitely be one for the historians.