Medina Spirit Stripped of Kentucky Derby Title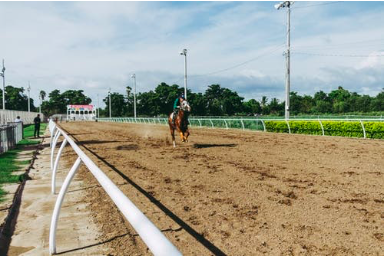 Margareta Backlund, Staff Writer
June 2, 2021
The 2021 Kentucky Derby took place Saturday, May 1 in sunny Churchill Downs. With the pandemic slowing down, the Kentucky governor, Andy Beshear allowed a limited number of people to attend. This contrasts with the 2020's delayed derby which was held with no audience on September 5th, 2020. 
The winner of 2021 was jockey John Velazquez riding Medina Spirit (a 3-year-old colt) with Hall of Fame trainer Bob Baffert, finishing almost a half a horse length ahead of Mandaloun, the win gave Baffert his seventh derby win. However, due to failing a post-race drug test, he was disqualified, leading to Mandaloun placing first. The post-race test identified 21 picograms per milliliter of betamethasone, an anti-inflammatory that can be used to relieve joint pain in horses, which is more than twice the allowed amount within 14 days of the race in Kentucky.
Baffert said, "I was totally shocked when I heard this news…[as] you know, we didn't do [this]," at a press conference on Sunday, May 9. In this year alone, a total of five horses under his care have failed a drug test, leading him to be suspended from entering any horses at the Churchills Downs Racetrack. He continues to deny that Medina Spirit was ever treated with betamethasone and claims he doesn't know how the drug landed up in the horse's system. And he intends to race with Medina Spirit in the Preakness Stakes on Saturday, May 15 in Baltimore. 
Medina Spirit becomes the second horse in the Kentucky Derby to win but later be disqualified due to failing a drug test. The first being Dancer's Image in 1968 after finding traces of phenylbutazone in a post-race urinalysis. 
Many people have weighed in on this issue but one of the most memorable would be the former President Donald Trump calling the "…Kentucky Derby winner, Medina Spirit, is a junky" on his new site From the Desk of Donald J. Trump. A bit closer to home, freshman Bradleigh Ryan has some words on the topic. She has been an avid rider for some time. Ryan believes that Bob Baffert should be suspended indefinitely and thinks he is lying about not knowing how the drug ended up in the horse's system. She says, "This is his fifth horse this year that has failed a drug test and it's hurting the horses."
Ryan is ultimately correct, Bob Baffert just came clean about what happened on Wednesday, May 11, 2021. He believes that the traces of betamethasone came from an anti-fungal ointment called Otomax and continues to claim that he was unaware that Otomax has betamethasone in it.