Arielle Brotman, Freshman, Already Breaking Records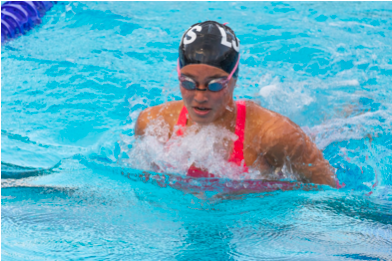 Margareta Backlund, Staff Writer
June 2, 2021
As sports seasons were delayed for the 2020-2021 school year, student-athletes were left with empty promises of when the season was going to start. The swim season eventually started on February 1st and ended on CIF Friday, April 23. Throughout this season the team of 54 swimmers made personal bests and helped LJHS win several meets including winning the La Jolla High School Championship Invitational on Wednesday, April 14. CIF was originally canceled leading everyone to believe that it was over for the swim season, however, the cancellation was overturned and CIF was held on April 23. 
One swimmer during this swim season broke two LJHS records as well as breaking a CIF Division II record. Arielle Brotman, a 15-year-old freshman, broke the LJHS record with a 1:04.62 breaking Herendira Alanis' time, which was 1:05.26 from 2010. A little more than a week later at CIF, she broke the CIF Division II record which was held by Alexandra Ellis, Westview High School 1:03.46, with a 1:02.42 dropping an additional two seconds from her time from the previous week. With a smile, Brotman said, "I was so shocked when I looked up at the board and saw my time. How could I drop two seconds in only a week? Like wow. It felt amazing." 
Earlier in the swim meet, she finished first in the 200 individual medley (IM: 50 butterfly, 50 backstroke, 50 breaststroke, and 50 freestyle) with a 2:01.47 which also broke an LJHS record which was held by Allie Knight with a 2:02.94 in 2010. Both 100 breaststroke and 200 IM are her favorite events. 
She also helped her two relays place; 200 freestyle relay seeded 6th with freshman Angie Hou, junior Roxy Hazuka, and junior Lulu Hirschfield, placing 3rd with 1:41.96. The 400 freestyle relay seeded 6th with freshman Angie Hou, senior Natalia Hackbarth, and junior Roxy Hazuka, placing 5th with 3:45.40. 
Brotman has been swimming since she was seven and is currently swimming for Rancho San Dieguito. With her current times she can swim for "elite D2-D3, strong Mid-major D1, Power 5 D1 [school]" says Next College Student Athlete (NCSA). But her goal is to be able to swim for Stanford in the 100 breast, 200 IM, and 200 breast or 100 fly. 
She is only a freshman and is already breaking LJHS records and CIF Division II. Let's see what she can accomplish in the next three years.