Murals Throughout La Jolla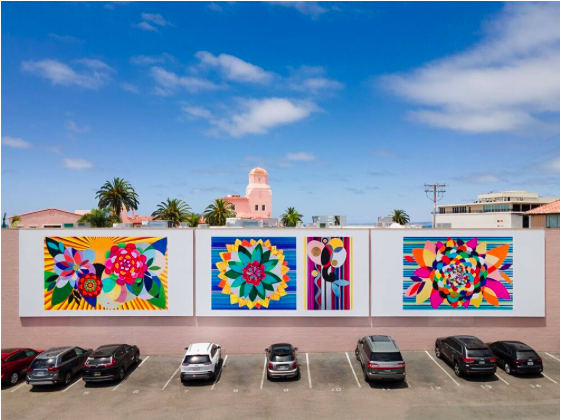 Murals are distinct pieces of art, which are designed on permanent surfaces. They consist of architectural elements that are assimilated into the artist's design. La Jolla features spectacular murals throughout the town, in locations such as walls, street corners, and other architectural design. For murals to last, they have to be maintained by the artists who designed them or individuals who want to help out. 
In addition to La Jolla's incredible architectural design, artists organize eye-catching pieces of art. As maintained by the city of La Jolla, "Currently, La Jolla hosts 16 mural locations maintained by private donations to the Athenaeum. You can view former murals in the online archive at the Murals of La Jolla Website, as 8 of the 16 have been updated with new murals since the start of the series in 2010." Since 2010, La Jolla Murals have been extremely popular, drawing the attention of the town. Although murals in La Jolla are common, most are hidden in distinct locations, making people intrigued to search for them. 
The most notable murals in La Jolla are within "The Village." The Murals of La Jolla Art Advisory Committee has made it their goal to create projects that the public can enjoy. According to the Athenaeum, "The goal of the mural project is to enhance the civic character of the community by commissioning public art projects on private property throughout La Jolla." Murals in La Jolla are meant to enhance the community- a way people can come together and enjoy the artwork. Murals scattered throughout town are designed by authors with the passion to give something everyone can enjoy. 
It seems to be true that local's appreciate the hard work and education put into creating these spectacular murals. Junior Aaron Lobos stated, "I admire the mural works of local artists because I believe it brings a sense of happiness and joy to people from La Jolla, it gives people something to be proud of and it represents the community." The main idea of the murals is to supplement the characteristics of La Jolla, by authorizing artworks on both public and private property. Since the COVID-19 pandemic, artists have not had so much expansion to design murals. Now that the pandemic is vividly slowing down, artists can go back to designing pieces that sell the variety of art in La Jolla.