Vikings Go Undefeated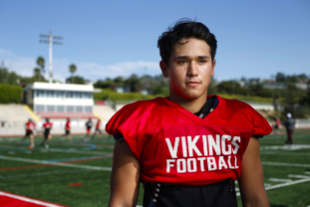 Selma Hyytinen, Staff Writer
May 11, 2021
Many players, students, and coaches doubted the chance that La Jolla High School would get a chance to play football for the 2021 season- so when the season was permitted, it came as a welcomed surprise. 
While practice and the season all together did not officially start until February, the team had already been training since April 2020 in preparation for the 2021 season. Junior Frankie Castronovo, a safety, explains the dedication the team showed to each other and training despite challenges, "We never truly knew if we were going to have a season in the first place because of COVID. We all just continued working out and practicing, even if we weren't motivated or had doubts on if it was even worth it, until we got the news that we were allowed to have a season." The 2021 season was expected to be a good one due to the Vikings stellar season last year which included winning CIF and taking second place at the State Championships. 
The Vikings played a total of five games, triumphantly winning them all, garnering an undefeated record. Defeating Morse High School 49 to 12 made for an astounding first game, followed by another big win against Mira Mesa High School finishing 51 to 14. Next the Vikings took on Mission Bay High School, who were no match, and won with a crushing score of 63 to 3. The all star team then played Christian High School bringing home yet another win, finishing 37 to 7. To conclude the season the Vikings played against Helix High School and capped off the season with a win with a score of 28 to 21. 
Senior Devin Bale, a wide receiver and kicker, has played the last four high school football seasons. He recalls the ecstatic highs of his final season, "I couldn't have wanted to end my senior year with another group. We went 5-0 and have a special bond. I'm glad we got to play during these times. I was hoping for 10 games but at least we got 5." To say the least the Vikings had a successful season and it'll be exciting to see what happens next year.