California Reopening June 15th – Is That Too Soon?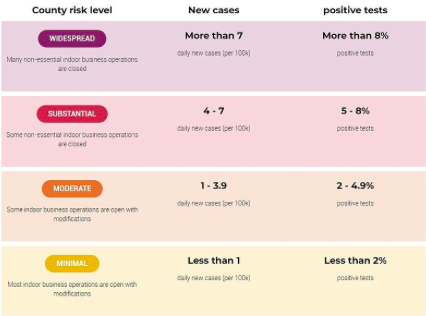 Governor Newsom announced a bold new plan to reopen California on June 15. This reopening plan will be enacted if the state meets two conditions: the vaccine supply is sufficient for Californians aged 16 years and older, and hospitalization rates are stable and low. On that date, businesses, workplaces, schools and public areas will be allowed to reopen while retaining "common sense" restrictions such as masks. 
Students like senior Ben Winograd expressed excitement at the idea. "I've been locked at home for a year and a half," Winograd explained. Reopening and returning to school could bring everyone's worlds back to some normalcy. 
This news might sound too good to be true. Sources such as the World Socialist Website criticized the reopening conditions as too vague. As for senior Austin Kingston's response to this news, he explained, "[My] instinct says no…[but] I can tell you my logic answer is different." 
Indeed, laying out the numbers brings ease to those worried about drastic consequences. According to Becker's Hospital Review, nearly 23 million people have been vaccinated in California, which is half the population. "I think that it's 100% plausible to be fully open by then," Kingston said. 
According to the Santa Cruz Sentinel, everyone has "three weeks to find an appointment, another three weeks in between their first and second dose and two more weeks after their second dose, which allows them to acquire full protection." Enough people will have enough time to get vaccinated; this method of "planning for the future," as Winograd put it, ensures a lot of safety for everyone eager to reopen. 
June 15 is a welcome date. As Kingston said, "I wanna enjoy summer."