The Death of Daunte Wright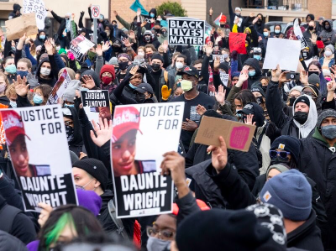 Nearly just one year after former police officer Derek Chauvin murdered George Floyd in Minneapolis, Minnesota, the area is erupting in protest again after a police officer killed Daunte Wright, a young black man, on Sunday, April 9 in the Minneapolis suburb of Brooklyn Center. 
The killing of Wright, who was only 20 years old and a father to his young child, was caught on the graphic body cam footage. Wright's encounter with the police initially began as he was pulled over for a minor traffic violation because of his expired license plates, but the officers saw an outstanding warrant for his arrest. The officers then began to handcuff Wright which was when the bodycam video started, showing Wright attempting to get in his car to drive away from the police. As he got into his car,  Kim Potter, the now-former police officer who had served nearly 26 years in the line of duty, yelled "taser!" multiple times in a row, and then shot Wright as he began driving away. As Wright drove off, he crashed because of his condition and was later pronounced deceased. Afterward, it was announced that the injuries Wright sustained from being shot by Potter were the sole reason for his death.
The emotions and reactions of civilians in the United States in response to the death of Daunte Wright were illustrated by immediate outcry and unrest. Not only in the state of Minnesota, but also in the rest of the country on Sunday as further details about the incident became public. This included former officer Potter claiming that she had mistaken her taser for her gun, causing her to "accidentally" shoot Wright, leading to his death. Potter has now been charged with second-degree manslaughter, and on Wednesday was arrested and soon after released after posting her $100,000 bond. 
Seven o'clock curfews were put into place for all citizens in the twin cities area, following the beginning of unrest after Wright's death. Protests in the Minneapolis area have now been going on every night since Sunday. 
When asked what she feels needs to be done in order to stop unlawful deaths like Daunte Wright's from happening in the United States, junior Ava Lancia said, "I think that police need more extensive training so that innocent black men and women aren't killed. They need to be better equipped to handle situations, so we can actually protect communities of color in our country." Junior Katie Williams had similar thoughts as she stated, "It's really hard to watch this continue to happen because it seems like no matter how much people all around the country protest and try to raise awareness for injustice like this, it continues to happen, so I think that what really needs to change is the whole policing system." 
Mike Elliot, the mayor of Brooklyn Center urged his community to stay calm, promising that an investigation would be conducted regarding Wright's death. He also acknowledged the timing of Wright's death in relation to the ongoing trial of Derek Chauvin which has already brought tension to the Minneapolis area. Mayor Elliot stated, "We recognize that this is happening at a time when our community, when all of America — indeed, all of the world — is watching our community."
About the Writer
Josephine Gettman, Staff Writer
Josephine Gettman is starting her first year in Journalism as a junior. She decided to join the High Tide so that she could start writing about topics...