San Diego County Entering the Purple Tier of COVID-19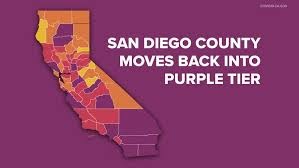 About two weeks after Halloween night, San Diego County has officially shifted to the purple tier of COVID-19 restrictions. This is the most restrictive tier, and many businesses are required to stop indoor services and only allow outdoor. Any schools that have not yet reopened are not allowed to reopen until San Diego County shifts to the red tier. It is predicted that the county will be staying in the purple tier for the next three weeks before another evaluation. Schools planning to go back in January may have to wait a bit longer unless cases go down again. 
Texas, Rhode Island, Tennessee, and New Mexico have all been selected to test a new COVID vaccine, which has a 90% success rate. If testing goes well and vaccines are distributed to other states, then eventually, San Diego will be able to slowly eradicate all cases and will return to normal. For now, however, the limitations and restrictions of the purple tier are here to stay in San Diego. The chances of this changing any time soon seem to below, as many people have been going outside without masks and have been gathering in large groups. "Although it doesn't affect me as much as it will affect others," says freshman,  Enzley Sillman, "I'm still upset that we have lost all our progress." Although San Diego has fallen back a tier, there is still hope. If citizens manage to follow the restrictions and social distancing rules, San Diego will hopefully be back up and running normally soon enough.