"Globetrotting" to San Diego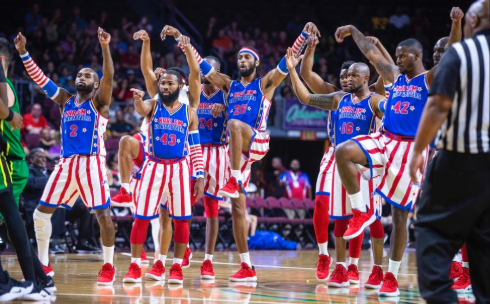 On February 14th and 23rd, the famous Harlem Globetrotters basketball team will be in San Diego to showcase their skills on the court at Pechanga Arena. Sophomore Liam Elsner said, "The Harlem Globetrotters are really good at basketball and they have good dribbling skills to perform spectacular tricks. It's pretty awesome that they are coming to San Diego and I would like to see them play." According to CBS 8, two Globetrotters, Hoops Green and Orlando "El Gato" Melendez, will visit Rady Children's Hospital sometime during the week of their game and surprise the patients.
Senior Alan Senoff said, "It's pretty cool that the Globetrotters are coming to San Diego on the 14th of February. They are world-renowned for their incredible tricks and I would like to see them break some ankles." According to Times of San Diego, the Globetrotters will use a four-point line in the game, along with the traditional three-point line seen in orthodox basketball games. Junior Sofia Herrler said, "Although I don't know much about basketball or follow it, I have definitely heard of the famous basketball team called the Globetrotters. It is amazing what they can do with a basketball; it is almost unnatural. I have seen a couple of clips on Youtube and it's pretty amazing. I did not know that the Globetrotters were coming to San Diego, but I'm sure many people are excited to see them." Many fans are anticipating the game in mid-February; it will truly be a one of a kind event.