Trump's Insufficient Puerto Rico Aid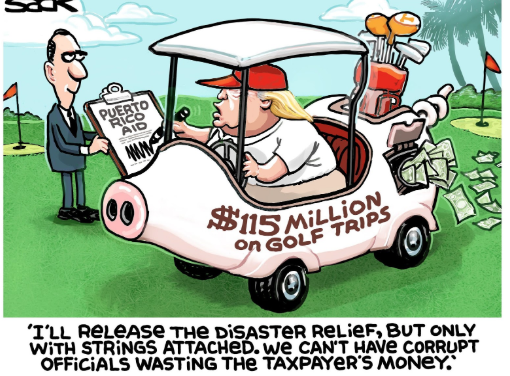 On December 28th, an earthquake of magnitude 5.9 struck Puerto Rico, causing the loss of power and freshwater to citizens across the island. Puerto Rico, already coping with previous disasters, has been restricted in its access to aid and ability to rebuild. Recently, billions of dollars were sent for emergency relief in Puerto Rico, yet President Trump has put many restrictions on how this money can be used. 
Trump has blocked spending on the electrical grid as well; suspending $15 per hour minimum wage for federally funded relief work. Additionally, out of the $1.5 billion cleared for spending, only five million dollars has been spent on emergency aid. Nydia M. Velazquez, Democrat of New York and the first Puerto Rican elected into the House, asked, "Why is Puerto Rico always subjected to different standards when it comes to this administration?"
Puerto Ricans are still living in poor conditions due to the damage caused by these disasters. "It is almost inhumane to not immediately respond with open arms to this crisis. If people are living in poor conditions, no matter where, we should be able to help out with the situation," Freshman Tommy Castronovo said. Earthquakes and hurricanes have destroyed the homes of citizens and left the people of Puerto Rico in complete disarray. To this day, citizens are forced to sleep on the ground in fear of aftershocks. "To see the president be so neglectful of people in need is very disappointing. The United States is one of the most powerful countries in the world and we are still facing issues with aid to Puerto Rico," Sophomore Frankie Soltero said. 
Beyond this, Puerto Rico continues to deal with the damages of past catastrophes. According to the Miami Herald, "The quakes are just the latest natural disasters to cripple the U.S. commonwealth. Puerto Rico is still healing from the hit it took two years ago from Hurricane Maria." Placing restrictions on foreign aid also restricts what can be done to mitigate future disasters, leaving Puerto Rico indefinitely recovering. 
Trump must end these restrictions and immediately work to solve this issue. The United States cannot sit back and watch as people are forced to live without freshwater and electricity. Until Trump works to solve this issue, there will continue to be people protesting and wanting change.
About the Writer
Grahm Churchill, Staff Writer
Grahm Churchill is a sophomore this year at La Jolla High School. This is his first year taking Journalism and he is looking forward to being able to express...