Tangle in the Tank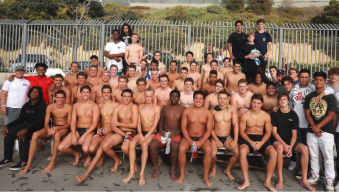 September 27th, 2019, marked the fourth annual Tangle in the Tank. This is a tradition held at the Coggan Family Aquatic Complex. The La Jolla High Varsity Water Polo and Football teams go head to head in a game of water polo to raise funds for Susan G. Komen San Diego's Breast Cancer Services. In the first year, 2015, the Varsity Water Polo team won. In the following two years, the football team won. This years' Tangle in the Tank resulted in a tie. 
To create a level playing field, eleven football players are in the water, facing off against seven water polo players. In addition, every time the football players score a goal, they receive seven points while the water polo players only receive one.  
Junior Luke Brunette, a football player, said, "It's fun playing against people you've known for a long time, although Tangle in the Tank didn't feel much different than playing against my teammates during practice. My favorite part was scoring a goal and I was happy to see all of the support for breast cancer awareness." 
Senior Quin Ruminski, a water polo player, states, "It was pretty cool going against some of my other friends that I wouldn't have thought I would be playing against. I love water polo because I get to play a sport with all my homies. All the hard work put into it makes it a fun sport to play." 
The friendships between athletes of different sports at La Jolla High School has made this event fun-loving, and overall very exciting to be a part of. Contrary to popular belief, Tangle in the Tank is a drama-free zone where opposing sports teams play against each other without any tension. Varsity Water Polo coach, Tom Atwell, holds this event close to his heart. He is a three-time cancer survivor and loves seeing everyone come out each year to support and raise awareness.