Deadly California Boat Fire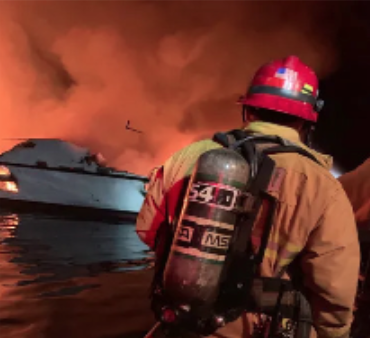 At least 34 families have been affected by the deaths that occurred on September 2, 2019 . The boat, The Conception, left the dock on September first for a 3 day trip with passengers ranging from ages 17 to 60. The first night the ship anchored off the coast of Santa Cruz Island,. At around 3:15 A.M. on September second, the boat burst into flames. This has become known as the "Labor Day Tragedy"
According to Jennifer Homendy, a member of the national transportation safety board, two crew members jumped ship and swam to an inflatable skiff to save anyone else that jumped ship which was only 3 more of the crew members. "What's emerging .. is a harrowing story of the moments (after) the fire erupted on the vessel," says Homendy. The rest of the crew was stuck inside, surrounded by flames and allegedly died of smoke inhalation minutes later. The five crew members met up with another ship on their skiff for rescue. Homendy also stated that two of the crew members turned back around once they reached safely to look for survivors but found none.
Later that day the 75 foot boat was on the seafloor with 33 burned bodies. There is only one body that is unidentified and tests are still being run on the origin of the fire. Governor Gavin Newsom responded to the public about this incident was full of sorrow and support as he stated "California is committed to assisting in recovery efforts and the investigation however possible. Based on the findings of the investigation, the state will take action to prevent horrific boat fires like this in the future".