Swim Team Looks to Finish Strong in CIF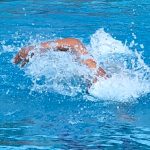 This year's swim CIFs is just around the corner which means swim season is coming to a close. Overall, the team had a great season, with the girls going 8-1 and the boys going 7-2. Both lost to Cathedral Catholic High and the boys lost to The Bishop's School. Swim team CIF Preliminaries are May 1st and the Finals are May 8th. The Championships are in Fresno on May 17th, and general admission fees are from $10-12 and seniors citizens are $7-8.
This year's CIFs, governing body for high school swim teams, has 82 schools competing for the girl's league and 84 schools competing for the boys. According to Varsity senior Cole Atwell, the swim team is very excited for the opportunity. He talks about how the team has a lot of people ready to compete. They are also "looking to P.R. (Personal Record)" in that as well. For context, the CIFs are incredibly important for athletes who wish to compete in college. College scouts come from all over to find exceptional student-athletes for their team. As for competition, both Cathedral Catholic and The Bishop's School were brought up. "We can get really competitive back and forth in races", says Junior Jessica Newell, a member of the Varsity team.
According to both Newell and Atwell, the main goal for the swim team was to improve personal times and relay teams. This seems to have been pretty effective. "One of the best teams in the county for sure", says Atwell. Newell commented, "We are getting stronger in different areas, our relays are getting better, and also individually we are getting better." Both team members agree that they are confident in this year's relay teams. The swim season will be over faster than you might think so let's go support our Vikings at CIF!