Viking Relays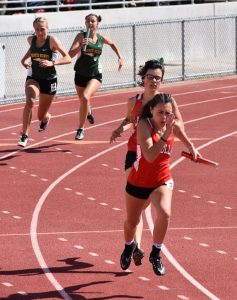 On Saturday, April 20, from 10:30 a.m. to 4:30 p.m., the 2nd Annual Viking Relays will be held at the LJHS Track. As a Saturday invitational home meet, it will be the largest home meet of the year for the La Jolla High Track team. There will be more than 1,000 varsity athletes from over 25 different schools competing in the meet. From the La Jolla High Track team, the top two athletes in each event will also be competing in the meet. There will be food and refreshments with many field and running events to watch.
Sasha Backus, a 9th grader who does the 800m and the high jump, said, "I am excited to try to PR in the high jump and am excited that the big meet is happening at our school. I hope to eat some really good food!" The meet will have many skilled athletes from the other schools competing in the events. According to Sierra Roberson, a senior who runs the 100, 200, 400 and 4×100 meters, "Since it is the 2nd annual invitational, I am excited about seeing the teams and talent that will be at the meet."
Coach Karnopp, the long jump and triple jump coach, said, "For my events, this meet will be the most competitive this year. Last year's meet was the first invitational meet in at least the last 17 years." As stated above, the meet is unique because it is an invite home meet, instead of dual meets, which are smaller and are league competitions.
The athletes have trained hard throughout the season and this meet is their opportunity to show their progress and talents by competing against many other schools and athletes. Come and support the La Jolla Viking athletes in their largest home track meet on Saturday!