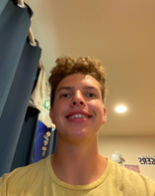 Senior Harrison Kaseff hopes to become a better writer this year in Journalism. He thinks that he needs a lot of practice and that this class will give him just that. He looks forward to getting started in the new school year.
This is his second year in Journalism, and he thinks he will probably major in it in college. Next year, he will look to begin college and his journey to becoming a sports journalist. He would like to get into announcing sports games or becoming a sports agent because many of his pastimes include sports.
He is looking forward to writing a lot because he thinks he really needs to get better. So far, he likes the environment of the class and likes the fact that once he gets his work done, he is allowed to work on homework from other classes. His goals for the year are to get good grades on his articles and become a much better writer by the time the class is over.
, StuFo Editor