High Schools Shouldn't Make Covid-19 Vaccines Mandatory for Students in the Fall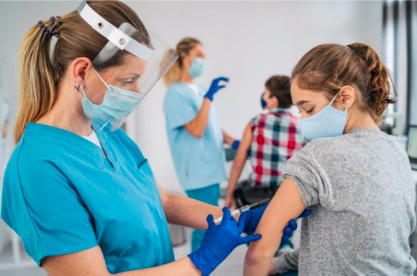 The world has been fighting the COVID-19 pandemic for over a year now, and as life begins to return back to normal due to the vaccine rollout, there are many factors up for debate regarding the return to in person school. As fall approaches and many schools plan to be fully reopened for the 2021-2022 school year, the question over whether the COVID-19 vaccine should be required for students to return to school or not has been circling. 
Junior Tayden Schyler said, "Students should not be required to get the vaccine for school because we should wait until we know more information about the vaccine and if it would really make a difference if we all got it or not." Although the vaccines have already saved thousands of lives and given many people around the world a glimpse of a return to normalcy, making it mandatory for students to be vaccinated before returning to school this year is an unreachable goal. 
The Pfizer vaccine is currently available to people 16 and up, and next week, vaccine distribution to children between the ages 12-15 will be available for the first time. This is great news because it means that every high schooler in the U.S. will soon have the ability to be vaccinated; however, the likelihood that every high school student in the U.S. will have access to a vaccine before August is slim. Additionally, the decision on whether a child gets vaccinated is their parent's choice. There is a high chance that many people will choose to get their children vaccinated for their safety and wellbeing, but there are also others who feel as if the vaccine is unnecessary for young people. This is primarily because children are unlikely to get severely ill or die from COVID-19. 
Overall, most information about the future of COVID-19 and how it will impact the world is unknown, even today as many countries now have access to vaccines. Many scientists are now recognizing that COVID-19 vaccine boosters are likely in our future which brings yet another reason why it would be too complicated for schools to require their students to get vaccinated. According to CNBC, the CEO of Pfizer, Albert Bourla said, "People will 'likely' need a booster dose of a COVID-19 vaccine within 12 months of getting fully vaccinated." Although some believe that having all students vaccinated is the only way to keep everyone safe, since vaccine boosters will be needed it could lead to confusion about who is still protected from COVID-19, and ultimately, take away from school time.
The reality is that there are still students in the U.S. who have not returned to school since the beginning of the pandemic which has led to negative effects such as learning loss, social and emotional issues, etc. To avoid more of this, it's important that all schools go back in person this fall to ensure that all students are receiving a quality education. 
Junior Sienna Avina said, "I think that forcing students to get vaccinated will end up creating more division between people which is something we don't need right now. Instead, I think we should focus on getting fully back to school while making sure each person is individually staying safe and healthy." Schools must promote the healthiness of their students next fall by keeping up with safety protocols to protect against COVID-19, but the decision of whether or not students get vaccinated is ultimately up to each person's parents and other factors such as accessibility.