Summer 2021 Fashion Trends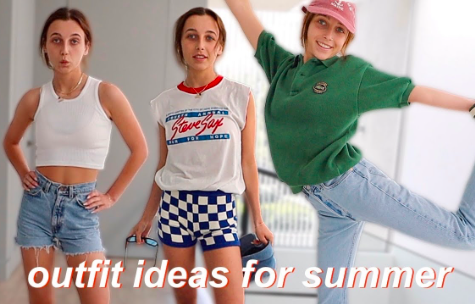 After a long year of quarantining and wearing sweatpants, it is almost time to (safely) show off your closet this summer! From dressing up your basic go-to outfit, to rocking fun patterns, there is certainly a trend for everyone. 
YouTube star and popular social media influencer, Emma Chamberlain, posted a video recently titled, "What I'm Wearing this Summer," which racked in a total of 3 million views. With such strong viewership, there is no denying that Chamberlain has a powerful influence on her mostly female-teen demographic. In her video, Chamberlain goes over her love for basic Levi's denim shorts and a white tank top. She continues in her video to say, "The reason why this is my go-to is because the opportunities are endless." Because 2021 is the year for accessories, there is no denying that this simple outfit is the perfect opportunity to throw on some statement shoes, a fun button up, and layer jewelry such as necklaces and rings! Senior Ellex Brown has already incorporated this trend into her outfits, "I love accessorizing, so sometime's I'll wear an outfit similar to Emma's in order to make my sunglasses and fun jewelry pop."
When it comes to summer 2021 for both the girls and boys, Vogue is predicting a come-back for some vintage prints. Madeline Fass, a market editor for Vogue, said, "'For a summer of reemergence, love, and togetherness, it's not surprising that we see a handful of late-'60s and '70s-inspired florals across a handful of summer staples and modern silhouettes.'" She continues to list some ideas for the print this summer, including crop tops, bikinis, capris, miniskirts, sundresses, and shorts. Senior Thibaut Losay, "Although fashion isn't really my thing, I do think cool patterns can help make an outfit."
Despite fun summer trends, 2021 is the year to express your individuality, so whether you fall in love with a trend or make one of your own, wear what you love!