La Jolla Men's Lacrosse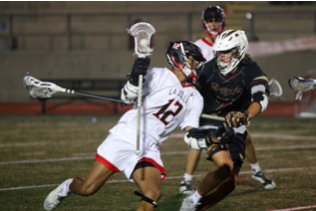 This season looks to be a lot more promising than last year's disappointing 0-3 campaign for the Vikings Varsity Men's Lacrosse team. The squad has significantly improved since last year and that can be attributed to many factors including the fact that junior Darius Stanley is finally healthy after battling a broken thumb during the majority of last season. On top of that the defensive strengths have changed for the team. This season the defensive core is centered around sophomore goalie Billy Stephens who is set to have a breakout season leading our defensive line. 
Our Vikings took on their bitter rivals, the Bishops Knights on April 15 at home. The Vikings had a rocky start to the game ending the first quarter tied at one a piece. By halftime it was still tied up 4-4, but it was our Vikings who came out on top at the end winning the derby 9-7. We are blessed to have such young exciting Lacrosse talent at our school. Some names to watch out for this season include Tynan Walsh, Darius Stanley, Billy Stephens, Landon Watson, Ezekiel Pearl, and Russell Fish. 
Senior Walsh is a hard working capitan who leads the team by example. Walsh is a highly skilled shooter who uses his high lacrosse IQ to the best of his advantage. Sophomore Stephens is a young promising player with a lot of potential. The young lad has been doing a great job proving himself saving big shots despite having a lot of pressure placed on him. Watson is another attacker who was quoted as saying, "Missing Sean is a big loss for us but it's great seeing our defensive players step up and fill his role." Pearl has been assigned the role of leading the defense as the enigmatic Sean Ryan is out for the season. Junior Fish has done great stepping up in Ryan's absence.
Next week's game is a matchup against Poway which is set to be a fun game as both teams have strong squads and high aspirations. "It will definitely be a fun, competitive atmosphere. Poway is a strong team but I have full confidence in myself and my teammates that we will come out on top in the end." says junior Stanley who is happy to be back healthy banging in goals.